Bulion kojący jelita – prastare lekarstwo..
Czasami w zwykłych rzeczach jest coś niezwykłego.. Rosół znamy i pewnie lubimy wszyscy? A gdybym Ci powiedziała, że jest to chyba najzdrowsza zupa.. uwierzyłabyś? Pamiętam jak babcia mi go gotowała jak byłam przeziębiona i dodawała czosnek.. dużo czosnku. Pamiętam też, jak bolał mnie brzuszek, to mama gotowała mi zwykłą/niezwykłą ryżówkę właśnie na takim bulionie..
Mówią, że podróże kształcą, to prawda, ale mówi się też, że często daleko szukamy tego, co mamy pod ręką. I to też jest prawda. Na kilka lat całkiem zapomniałam o tych bulionach z dzieciństwa i dopiero podczas dalekich podróży do Azji płd-wsch przypomniałam sobie o nich ucząc się w szkole gotowania w Tajlandii czy rozmawiając z miejscowymi kucharkami.
Niesamowite, że chyba cały świat zna te buliony, zna i gotuje. To na nich w Tajlandii przyrządza się wspaniałe zupy Tom Yum, Tom Kha i inne.. i to na nich robi się w Wietnamie przepyszną zupę Pho Bo – pyszną i zdrową, dostępną tam chyba w każdym barze czy restauracji. W Wietnamie niektóre osoby mówiły mi, że taką zupę u nich gotuje się aż 72 godziny, oni dodają jeszcze po 3-4 goździki, odrobinę anyżu i cynamom. Ja wybrałam coś pośredniego, czyli nie nasz zwykły rosół, który gotujemy godzinę, dwie czy trzy i nie bulion, który miałby się gotować 72 godziny. Skorzystałam z wiedzy ajurwedyjskiej, ale też z wiedzy świata Zachodu i poniżej przedstawię Wam dwa przepisy. I powiem Wam, że jeżeli raz to zrobicie, to już nigdy nie będzie Wam smakować zupa na wodzie…….
W tym bulionie jest to coś, co Japończycy nazywają umami – takim smakiem charakteryzuje się większość pożywienia zawierającego polepszacze i wzmacniacze smaku, a tutaj mamy naturalny smak. Mówią o nim, że jest to piąty smak po słodkim, słonym, kwaśnym i gorzkim, choć w kulturze Chin mamy kuchnię 5P – 5 przemian, 5 smaków, natomiast w Ajurwedzie mamy 6 smaków! Tutaj o nich piszę:
Czym jest umami? Słowo to pochodzi z j. japońskiego i oznacza coś smacznego, wybornego, wyśmienitego – coś głębokiego, mięsnego, bulionowego. Nie można wyizolować tego smaku, a do tego jest bardzo ulotny.. i chodzi o to, że nie istnieje sam, nie można go poczuć samego, ale za to doskonale równoważy i wzmacnia doznania smakowe innych potraw. Dla mnie ten bulion to kwintesencja umami..
Taki bulion to też cudowne lekarstwo na przeziębienie, jest bogaty w minerały i składniki odżywcze, ale też przeciwzapalne. Jest do tego lekkostrawny, a zawarte w nim aminokwasy pomagają odbudować tkankę mięśniową i łączną, natomiast glicyna leczy nieszczelne błony śluzowe naszego układu pokarmowego. Taki bulion potrafi nawet uspokoić nasz mózg. O jego właściwościach mogłabym pisać i pisać. Jestem zwolennikiem profilaktyki, zdecydowanie wolę zapobiegać niż leczyć, a to prastare lekarstwo jest również niesamowitym detoksykantem, ze względu na aminokwas prolina, który się w nim znajduje, pomagający oczyszczać naczynia krwionośne i krew. I na końcu należy wspomnieć jeszcze o szpiku, który jest bardzo gęsty, a mimo to jest lekkostrawnym źródłem składników odżywczych. Często odżywiamy się niewłaściwie, jesteśmy przekarmieni, ale nie odżywieni.. Wiele osób z nadwagą i otyłością jest niestety źle odżywionych i taki bulion jest jednym z najlepszych sposobów na odżywienie naszych organizmów.
Najlepszy jest z kurki zagrodowej, wolno biegającej.. tylko czy te kurki, które sprzedają w sklepach faktycznie wolno sobie biegały? Bardzo dobry jest na wołowych kościach, ale wybierajcie tylko te, gdzie jest szpik. Można dodawać kurze pazurki. Potem, po ugotowaniu, trzymam w szklanych słoikach na dole w lodówce.. do tygodnia, a nawet dwóch spokojnie zużywam.. u mnie praktycznie każda zupa jest na takim bulionie.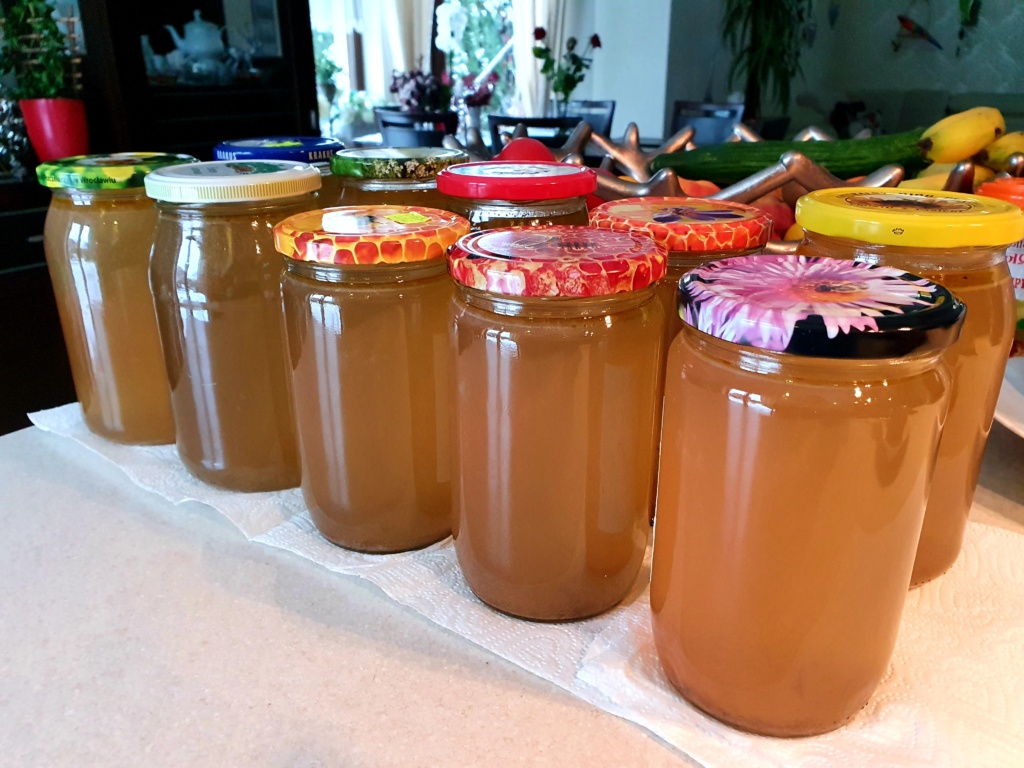 Nasze jelita często zostają uszkodzone przez różnego rodzaju infekcje, niektóre leki czy białka. Również często chorujemy na tak zwany zespół drażliwego czy nieszczelnego jelita, dlatego taki bulion i zawarty w nich naturalny kolagen pomoże również takim osobom, a przecież jest on zawarty nie tyle w mięsie, co właśnie w chrząstkach, kościach i skórze – a do jego uwalniania dochodzi właśnie podczas długiego gotowania.
Często mój bulion podaję z makaronem ryżowym, jako rosół, a wszystkie warzywa staram się brać z własnego ogródka.. małe, krzywe, brzydkie.. ale cholernie aromatyczne i smaczne! ..i najważniejsze.. że bez chemii!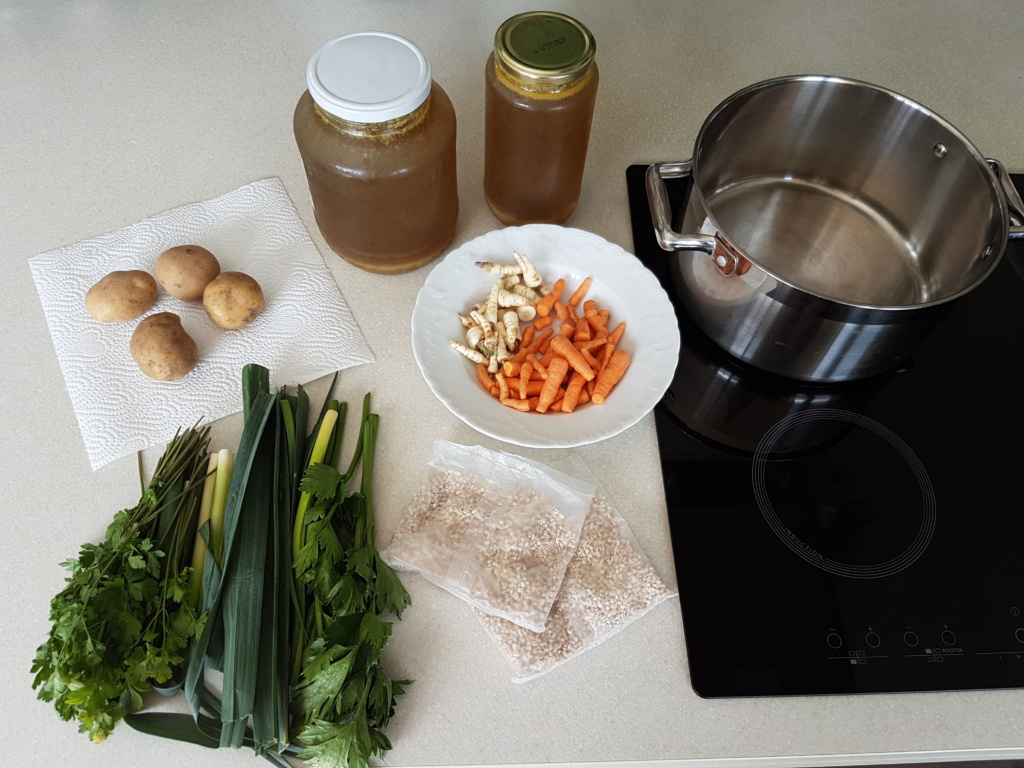 Na nim gotuję pomidorówkę, grzybówkę, krupnik, ogórkową, ale też wszystkie moje azjatyckie zupy, jak na przykład smaczną zupę z soczewicy z mleczkiem kokosowym, której przepis znajdziecie tutaj:
Taki bulion możecie pić nawet sam, możesz do niego dodać wyciśnięty sok z cytryny i odrobinę soli morskiej czy kłodawskiej. Wspaniale pomaga wyleczyć się z przeziębienia oraz ze względu na bogactwo składników odżywczych jest często stosowany przez sportowców i osoby dbające o zdrowy styl życia, poza tym wspaniale wspomaga w zwalczaniu zachcianek, ponieważ doskonale odżywia nasze ciało, a dobrze odżywione ciało nie domaga się śmieciowego jedzenia. Najlepiej gotować go raz w tygodniu i trzymać zamknięty w lodówce w słoikach, potem na nim każdą praktycznie zupę zrobisz w 15-20 minut. Wygodnie i zdrowo..
Teraz podam Wam 2 przepisy:
1.
– 1 mały kurczak albo indyk albo 1,5 – 3kg kości ze szpikiem
– 2 cebule, poszatkowane
– 4 selery naciowe w dużych kawałkach
– 2 duże marchewki, pokrojone
– 1/4 szklanki na 1,5kg kości lub 1/2 szklanki na 3kg kości octu jabłkowego
– woda, tak by napełnić garnek i zostawić 5cm od góry
– 1 łyżeczka soli himalajskiej
Opcjonalnie można dodać kilka kurzych łapek dla dodatkowej żelatyny, spróbuj, jeśli cię to nie brzydzi i tak potem wszystko przecedzasz.
Włóż mięso i warzywa do garnka, kości spryskaj octem, w międzyczasie obierz i przygotuj wszystkie potrzebne składniki i dodaj do garnka, następnie dolej wody i posól. Gotuj w niskiej temperaturze od 8 do nawet 48 godzin (jeżeli masz garnek do wolnego gotowania). Odcedź kości i warzywa i przelej do słoików i tak przechowuj w lodówce do tygodnia a nawet dwóch. Możesz również zamrozić i trzymać tam do 6 m-cy. Po ostygnięciu na wierzchu zbierze się tłuszcz, który możesz usunąć, ale możesz go też zostawić, jeżeli lubisz.
2.
– średniej wielkości kurczak (z wolnego wybiegu) lub ok 2 kg kości z kurczaka
– 3 marchewki
– 1 cebula
– 2 łyżki selera naciowego
– 2-3 pokrojone cukinie
– 2 łyżki octu jabłkowego
– 2 ząbki czosnku
– 3 plasterki korzenia imbiru
– 2-3 łyżki oleju kokosowego (nierafinowanego)
– 1 łyżeczka kurkumy
– kilka ziaren pieprzu czarnego
– 1 łyżeczka soli himalajskiej lub kłodawskiej
Jeżeli gotujesz na całym kurczaku – to potem możesz mięso wykorzystać do jakiejś sałatki, choć wartości odżywczych nie ma w nim już wiele – wszystko co dobre odda bulionowi. Do garnka włóż wszystkie składniki, dolej tyle wody by wszystko przykryć i gotuj minimum 3 godziny, a najlepiej przynajmniej 8 godzin na bardzo małym ogniu. Niektórzy mówią, że można w międzyczasie dolewać wody, ja tego nie robię, gotuję pod przykryciem i praktycznie mało co wyparowuje. Po odcedzeniu wlej do słoików i trzymaj na dole w lodówce – maksymalnie 1-2 tygodnie. Taki bulion można też mrozić, tak jak pisałam wyżej.
Możesz go jeść jako pierwsze danie obiadu, albo jako lekką kolację. Kluczem do sukcesu jest użycie dobrej jakości składników i dobrych przypraw oraz ich wolne i długie gotowanie. Dzięki temu wszystkie składniki odżywcze przenikną do bulionu.
Poniżej przykładowa zupa warzywna na bazie takiego bulionu, niemniej możesz używać jakichkolwiek zielonych warzyw, o ile są świeże i sezonowe, staraj się nie używać mrożonych.
Potrzebne składniki na 2 porcje:
– 1 szklanka bulionu
– 1 szklanka wody
– 1 szklanka poszatkowanych zielonych warzyw (szpinak, cukinia, zielony groszek, brokuły, szparagi etc)
– 1 łyżka lub więcej ulubionych przypraw (można tutaj dodać np. pół łyżeczki na porcję curry czy garam masala)
Wszystko dodaj do garnka, wymieszaj i doprowadź do wrzenia.. gotuj przez 10-12 minut i najlepiej zjadaj od razu. Możesz też zmiksować, jeżeli lubisz zupę krem..
Życzę smacznego! I będzie mi bardzo miło jeżeli podzielisz się ze mną w komentarzu swoimi wrażeniami po zrobieniu pierwszego bulionu……..
A jeżeli mój artykuł spodobał Ci się, to będzie mi bardzo miło, jak postawisz mi kawę -> uwielbiam kawę! A zgromadzone środki przeznaczę na pewno na dalsze rozwijanie swojej wiedzy, na pomaganie i wspieranie innych oraz na czas, który przeznaczam na tworzenie mojego bloga.. i z góry bardzo Ci dziękuję za tą pyszną kawę………..