Wstęp do kuchni ajurwedyjskiej – trawienie i odżywianie – koncepcja 6 SMAKÓW.. część I
Czy zastanawialiście się kiedyś – jak powinien wyglądać idealny posiłek? Czy robiąc zakupy myślicie o tym, by dostarczyć organizmowi takie pożywienie, które doda mu energii, zrównoważy, nie spowoduje wzdęć czy zgagi? Czy zastanawialiście się kiedyś nad tym, który pokarm jest odpowiedni na jaką porę roku? Czy zwracacie uwagę na to, żeby urozmaicać posiłki i żeby w każdym daniu były różne smaki? Na pewno część z Was teraz pomyśli – o czym ona pisze? Wchodzę do sklepu, robię zakupy, a potem w domu zastanawiam się co rodzinie i sobie ugotować na obiad, co podać na śniadanie, a co na kolację. Czasami pewnie pomyślicie też o tym, żeby było w miarę szybkie do przygotowania, zdrowe, może ugotowane na parze, żeby było kolorowo na talerzu, w końcu jemy też oczami.. ale czy myślicie o smakach? O łączeniu smaków? O tym, czego z czym nie łączyć?
Tym artykułem chciałabym zapoczątkować kolejny cykl odnośnie Ajurwedy, myślę, że ciekawy na jesienno – zimowe wieczory i bardzo ważny dla naszych organizmów, czyli trawienie i odżywianie – cykl artykułów na temat diety ajurwedyjskiej .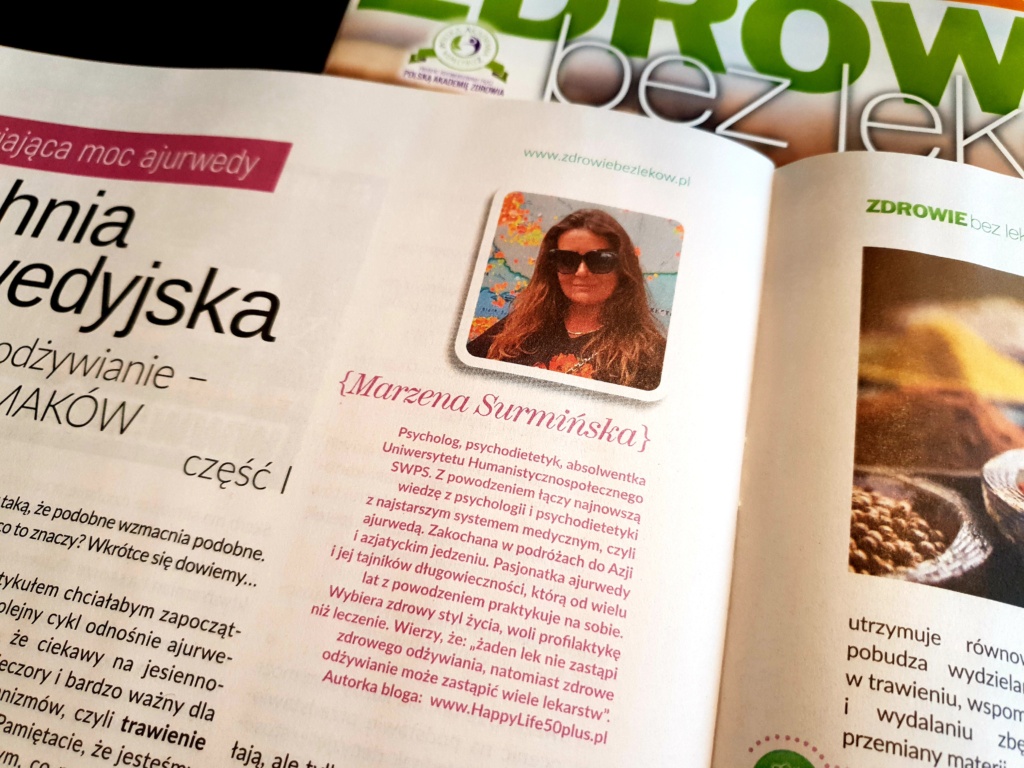 Z wykształcenia jestem psychologiem i psychodietetykiem, ale sama długo borykałam się z tematem nadwagi i otyłości, dlatego temat różnego rodzaju diet jest mi bardzo bliski. Od ponad 7 lat moja waga wreszcie nie skacze jak szalona góra – dół i szerokim łukiem omijam wszelkiego rodzaju diety. Korzystam na co dzień z dobrodziejstw jakie daje ta piękna wiedza, bo dzięki niej można naprawdę żyć zdrowo i bez ciągłego poczucia straty, że 'coś znowu nie mogę' lub 'coś muszę' i praktycznie bez ograniczeń. Wystarczy poznać jej proste zasady, choćby taką, że podobne wzmacnia podobne. Ale co to znaczy? Wkrótce dowiemy się…
Pamiętacie jak pisałam już kiedyś, że jesteśmy tym co jemy, tym co nasz organizm wchłonie? –> czy istnieje dieta ajurwedyjska? Tak.. ale to słowo nie oznacza w tym przypadku redukcji wagi – chodzi bardziej o dietę jako styl życia – więc poznajmy je proste zasady..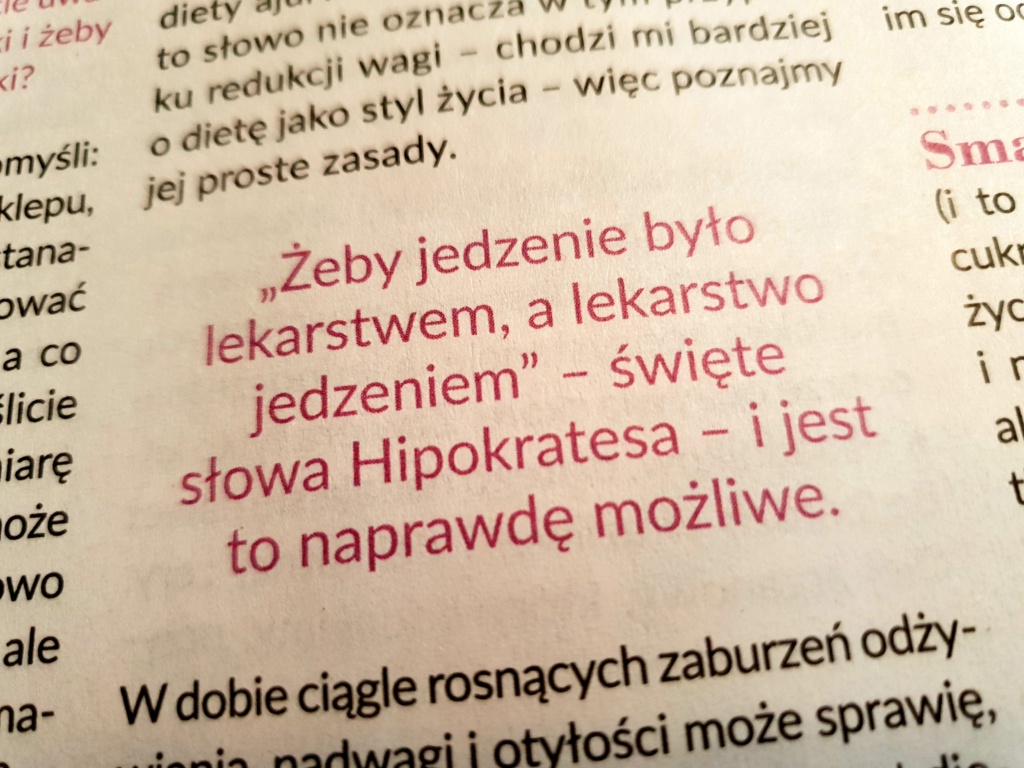 'Żeby jedzenie było lekarstwem, a lekarstwo jedzeniem' – święte słowa Hipokratesa – i jest to naprawdę możliwe. W dobie ciągle rosnących zaburzeń odżywiania, nadwagi i otyłości, może sprawię, że choć część z nas spojrzy na temat diety inaczej, odzyska spokój, przynajmniej w tej dziedzinie i dawny wigor. Stare ajurwedyjskie powiedzenie mówi, że: 'jeśli jedzenie jest właściwe, to nie potrzebujemy leków, ale jeśli jedzenie jest niewłaściwe, to leki i tak nie pomogą' – sprawdziłam na sobie! Faktycznie tak jest.
Ale przejdźmy w końcu do konkretów. Skąd się wzięła koncepcja 6 smaków i o jakie smaki chodzi? Na pewno każdy z nas zna smak słodki i słony. Lubimy je. Te dwa smaki fantastycznie działają w momentach stresu, prawda? Słodkie ptasie mleczko i słone paluszki. Działają, ale tylko na chwilę. Potem często wywołują poczucie winy. Zupełnie niepotrzebnie, bo wystarczy je używać z umiarem. Jakie są więc kolejne smaki? Kwaśny, ostry, gorzki i cierpki. W ajurwedzie mówiąc o smakach, przypisuje im się odpowiednie działanie, takie jak:
– smak słodki – MADHURA (i to wcale nie oznacza jedzenia tylko cukru czy słodyczy!) – zwiększa energię życiową, działa łagodząco na umysł i nerwy – dodaje siły, pobudza zmysły, ale również bierze udział w budowaniu tkanek ciała, przy produkcji osocza, krwi, tkanki mięśniowej, kostnej i tłuszczowej, szpiku kostnego, poprawia cerę, sprawia, że głos jest mocny, a włosy zdrowe, do tego gasi pragnienie, zmniejsza uczucie pieczenia, likwiduje wyczerpanie – pod warunkiem, że jest spożywany z umiarem!
– smak kwaśny – AMLA – ma działanie orzeźwiające, pobudza apetyt, ale też rozgrzewa organizm, poprawia trawienie, dodaje energii, odżywia serce, rozjaśnia umysł, pomaga w wydzielaniu śliny
– smak słony – LAVANA – łagodzi bóle i skurcze jelita grubego, nawilża nasze tkanki, poprawia i podkreśla smak potraw, w małych ilościach utrzymuje równowagę elektrolitów, pobudza wydzielanie śliny, pomaga w trawieniu, wspomaga we wchłanianiu i wydalaniu zbędnych produktów przemiany materii
– smak ostry – KATUKA – oczyszcza jamę ustną, wspomaga spalanie tkanki tłuszczowej, ale też pobudza i poprawia trawienie, oczyszcza zatoki, pomaga w krążeniu krwi, rozpuszcza skrzepy, niszczy pasożyty, likwiduje niedrożności
– smak gorzki – TIKTHA – wzmacnia inne smaki, zabija zarazki, przydaje się do oczyszczania organizmu z toksyn, łagodzi uczucie pieczenia i świąd, ujędrnia skórę, łagodzi wzdęcia, pomaga w trawieniu i w zmniejszaniu tkanki tłuszczowej
– smak cierpki – KASHAYA – wywołuje suchość w gardle i zaparcia, ale ma też właściwości lecznicze, pomaga w leczeniu wrzodów, zatrzymuje krwawienie, zwiększa krzepliwość krwi, oczyszcza krew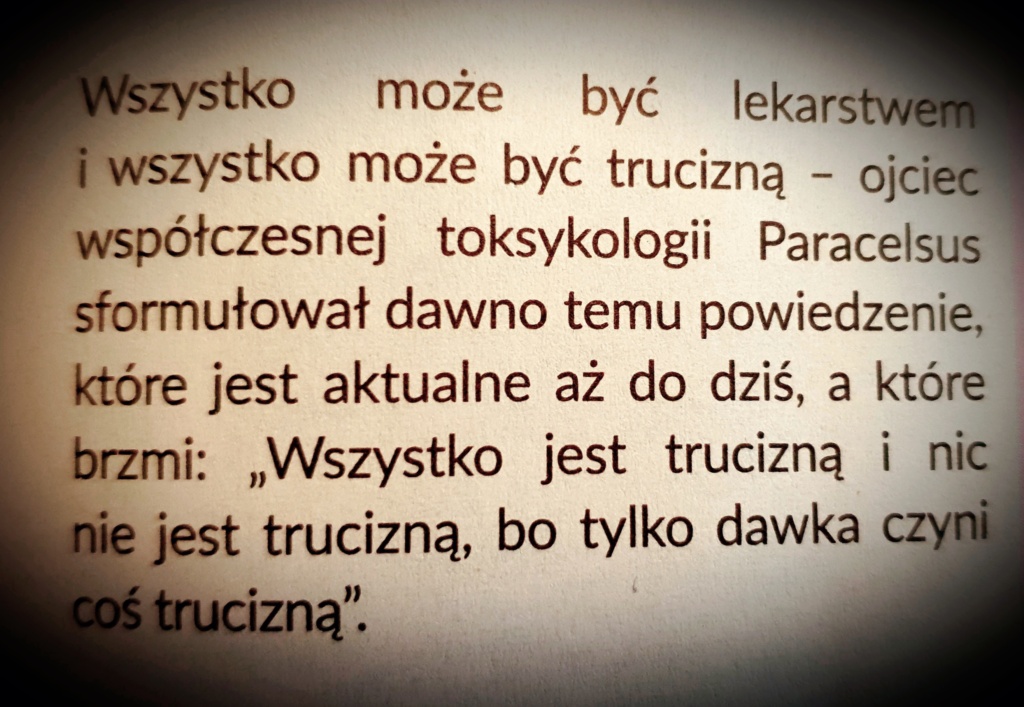 Wszystko może być lekarstwem i wszystko może być trucizną – ojciec współczesnej toksykologii Paracelsus sformułował dawno temu powiedzenie, które jest aktualne po dziś dzień, a które brzmi: 'Wszystko jest trucizną i nic nie jest trucizną, bo tylko dawka czyni coś trucizną'.
Tylko proszę pamiętajcie proszę, że każdy z tych smaków w nadmiarze powoduje różnego rodzaju zaburzenia, jak np. nadmiar smaku słonego przyczynia się do zagęszczania krwi i powstawania nadciśnienia, obrzęków i powoduje zatrzymywanie się wody, a nadmiar smaku słodkiego może prowadzić do ociężałości, otyłości, obrzęków czy cukrzycy, natomiast nadmiar smaku cierpkiego może zmniejszać popęd seksualny. Wszystko jest dla ludzi, ale wszystko z umiarem.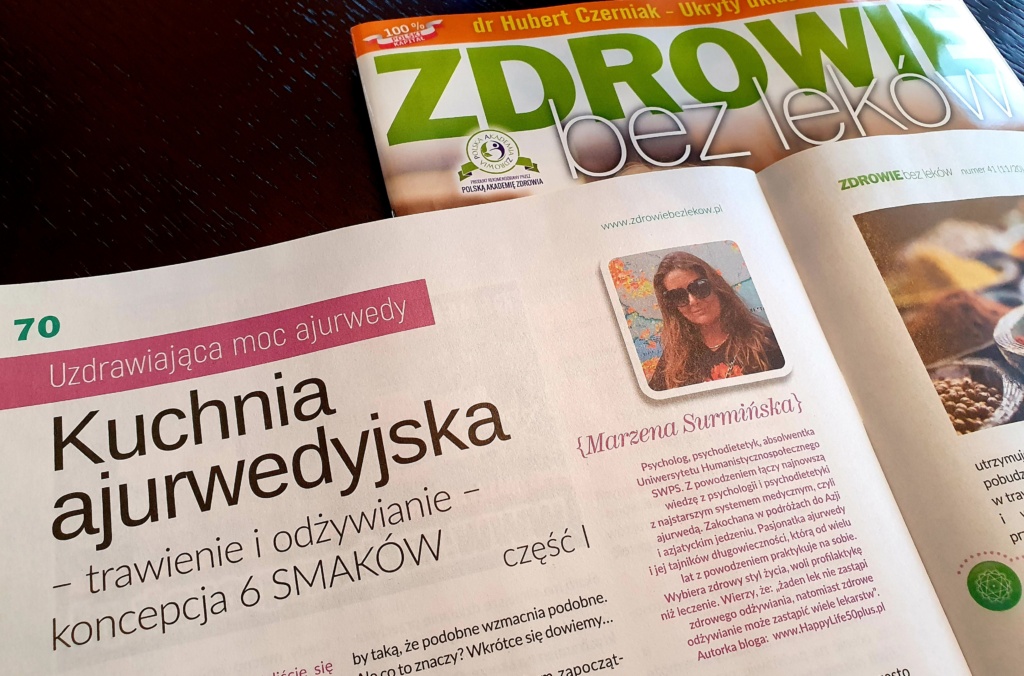 Teraz poznajmy 8 czynników, które według Caraka Samhity określają, jak oddziałuje na nas jedzenie:
1. NATURA – czyli to co naturalne, chodzi o to, że niektóre pokarmy są lekkie, a inne ciężkie, niektóre są wilgotne, suche, tłuste – chodzi o właściwości pokarmu
2. PRZETWARZANIE – wszyscy wiemy, że jakakolwiek obróbka jedzenia zmienia jego oddziaływanie – potrawy pieczemy, gotujemy, mrozimy, smażymy, słodzimy, rozcieńczamy, suszymy, dodajemy ziół i przypraw, rozdrabniamy etc – to wszystko ma ogromne znaczenie
3. KOMPONOWANIE – to jest bardzo ważny temat, ponieważ łącząc różne składniki jedzenia ze sobą, tworzymy kombinacje o zupełnie innych właściwościach, niż mają te składniki osobno – warto się nauczyć co ze sobą łączyć, a jakich połączeń unikać
4. ILOŚĆ – kolejna bardzo ważna rzecz, zwłaszcza dla osób, które 'jedzą, nie znając umiaru', ponieważ wielkość porcji i proporcjonalny udział różnego pożywienia w danym posiłku są bardzo ważne
5. MIEJSCE POCHODZENIA – czy zwracacie uwagę na to, kupując dany produkt w sklepie, jaki jest jego kraj pochodzenia? Niestety, ale te same produkty rosnące w różnych miejscach, w innym otoczeniu, w innej glebie, przy innym nasłonecznieniu, w innej temperaturze, ilości deszczu czy wilgotności powietrza, będą miały różne właściwości – to wszystko ma ogromny wpływ na wartości odżywcze, ale i na ich smak.
6. CZAS – ogromne znaczenie ma również pora roku, w której rosła dana roślina – są kraje, gdzie okres wegetacyjny trwa cały rok! Zawsze się zachwycałam będąc np. w Grecji, że jednocześnie na drzewie cytrynowym potrafią być i owoce i kwiaty – bardzo ważna jest też pora dnia kiedy dany produkt spożywamy, pora roku oraz czas, jaki upłynął od przygotowania danego posiłku
7. KONSUMENT – czyli my, osoby, które spożywają dany pokarm – nasz wiek, typ konstytucyjny, siła trawienia, stan emocjonalny (w momencie spożywania), nasze przyzwyczajenia żywieniowe – to wszystko wpływa na efekt wewnętrzny jaki wystąpi u nas po spożyciu danego pokarmu
8. WSKAZANIA DIETETYCZNE – czyli nic innego jak to, że to samo jedzenie ma różne oddziaływanie w zależności od tego, czy spożywa się je według zasad prawidłowego żywienia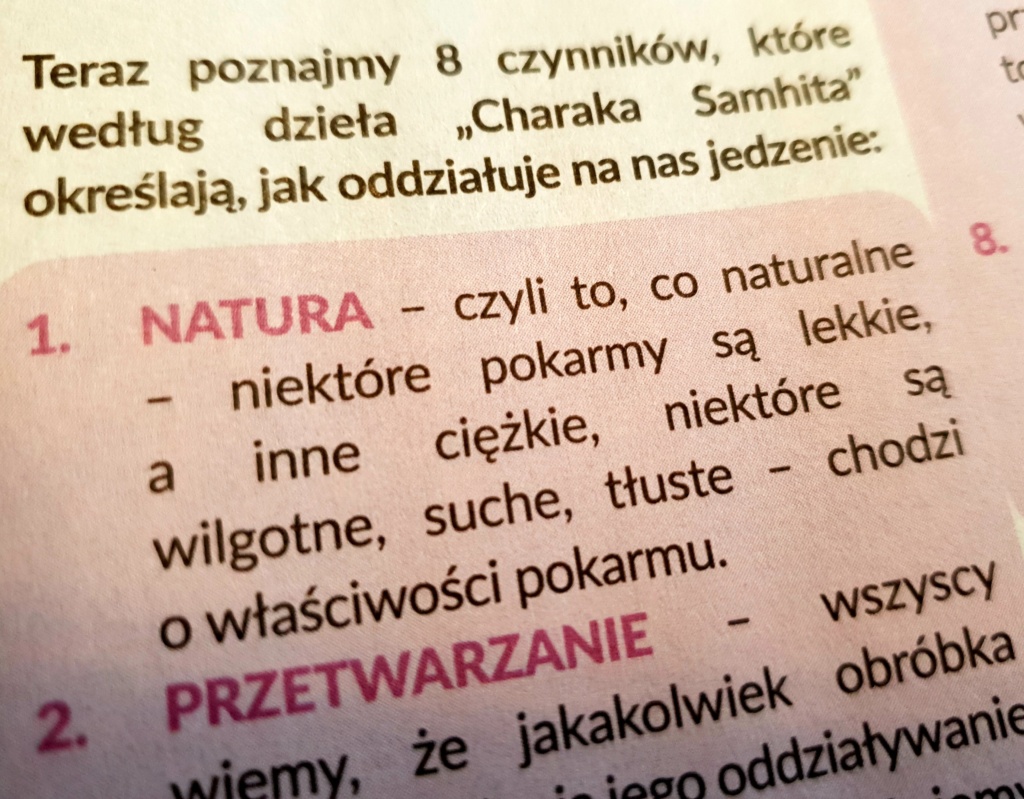 Być może na razie to wszystko brzmi obco, ale naprawdę naszym jedzeniem możemy wpływać na stan naszego organizmu i naszego umysłu. Nawet jeżeli ktoś odżywia się bardzo zdrowo, kupuje tylko ekologiczne produkty, gotuje na parze, je o odpowiednich porach etc – to wystarczy, że będzie musiał gdzieś wyjechać, weźmie pożywienie ze sobą w pudełku, minie 6-8 godzin od jego zrobienia, a do tego będąc w trasie zadzwoni telefon i otrzyma jakieś informacje, przez które bardzo się zestresuje i zdenerwuje, ale.. nadszedł czas jego posiłku. Stanie na parkingu i zacznie jeść, albo co gorsza będzie jadł jadąc. Czy taki pokarm będzie zdrowy?
W następnym artykule napiszę o dwóch kolejnych bardzo ważnych rzeczach wiążących się ze smakami. Bez nich ciężko byłoby zrozumieć po co one w ogóle są i jak możemy dzięki nim wpływać na nasz organizm za pomocą diety – bowiem każdy z tych smaków wpływa w określony sposób na nasze dosze i na związane z nimi właściwości, oraz każdy ze smaków jest również związany z określonymi żywiołami. Mam nadzieję, że pamiętacie z poprzednich artykułów o tym, że wszystko co jest na tym świecie: drzewo, kwiatek, pies czy człowiek posiada w sobie wszystkie elementy tych 5 żywiołów, czyli: eter (przestrzeń), powietrze, ogień, wodę i ziemię.
Mam cichą nadzieję, że jak choć troszkę poznamy zasady jakimi rządzi się Ajurweda przy doborze jedzenia, to znikną wszelkie dolegliwości związane z odżywianiem. Zachęcam do głębszego zapoznania się z tą cudowną nauką. Mamy to wszystko w zasięgu ręki, wystarczy tylko po to sięgnąć..
Artykuł ukazał się w miesięczniku 'ZDROWIE BEZ LEKÓW" nr11/listopad 2020
A jeżeli mój artykuł spodobał Ci się, to będzie mi bardzo miło, jak postawisz mi kawę -> uwielbiam kawę! A zgromadzone środki przeznaczę na pewno na dalsze rozwijanie swojej wiedzy, na pomaganie i wspieranie innych oraz na czas, który przeznaczam na tworzenie mojego bloga.. i z góry bardzo Ci dziękuję za tą pyszną kawę………..